About Georgia Adopt-A-Stream
Georgia Adopt-A-Stream (AAS) is the state's volunteer water quality monitoring program. Since 1993, the program has engaged citizen scientists all across Georgia and beyond in water protection activities through a series of educational workshops, which train individuals on the physical, chemical and biological health of their waterways. AAS is one of the outreach and education programs of the Non-Point Source Program in the Watershed Protection Branch of the Georgia Environmental Protection Division. The program is funded by a Section 319(h) Grant (Clean Water Act).
Georgia Adopt-A-Stream has five program goals that we encourage you to ADOPT!
About Us Photo resized 2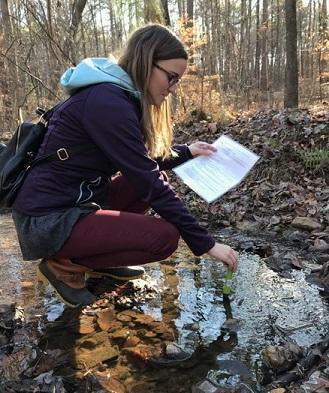 Increase public Awareness of the State's non-point source pollution and water quality issues
Collect quality baseline water quality Data
Gather Observations
Encourage Partnerships between citizens and their local government
Provide citizens with the Tools and Training to evaluate and protect their local waterways
To accomplish these goals, Georgia Adopt-A-Stream encourages individuals and communities to monitor and/or improve sections of streams, wetlands, lakes or estuaries. Manuals, training, and technical support are provided through AAS staff and more than 70 established Adopt-A-Stream local coordinators.
Learn how to get started with Adopt-A-Stream, find your local coordinator, and meet the Adopt-A-Stream team!